Disclaimer: This is a very long winded story about two idiots who doesn't catch any fish. Many words, but little fish (so, what else is new?!). This story will probably not be of any interest for you. You have been warned.

Let's go!
Finally, the first real fishing trip of 1998 was underway. After careful studies of potential rivers, we finally ended up with Surna. Stabile catch reports, prices reasonable, within comfortable distance and in general, positive reviews helped us make a decision. The first week of July usually offers a mix of small salmon (called "svel" locally), medium salmon (3-8 kg) and the occasional big salmon (8-25 kg), so we were optimistic. Øvre Sæter
There are several options of accommodation along Surna, and we eventually choice Øvre Sæter Camping, run by the infamous salmon fisher Jan Johansson, author of "Laks" and a bunch of other fishing book. Øvre Sæter primarily offers a bundle of cabin and fishing rights on their pools on a weekly basis, at about 5000 NOK a person. A bit steep for our valets, so we opted for cabin only, free/forced to buy licences at other pools for 100-200 NOK a day, rather than paying 600 NOK a day to fish at Øvre Sæter, which had no openings anyway.

Salmon fever
We arrived at Øvre Sæter at 8pm, wednesday July the 1st. Finally. While I was checking in, Julern peeked around the corner of the house, only to find the boss himself with a newly caught salmon of about 7 kg. It was caught by one of his guests, and Johansson told us that fishing was improving. But in general, he warned, it was pretty lousy. His warning had absolutely no effect on us whatsoever, as we were somewhat paralyzed and shamelessly drooling at the sight of the salmon. We had caught the salmon fever, and shortly after we literately threw all our gear into the cabin, ready to hit the water in a matter of minutes.

The salmon fever comes to a halt
We drove along the river downstream, and we promptly stopped at the first place selling licenses, which turned out to be Vindøla Camping, and the Moen/Røv-pool. We got our licences, smiling constantly, acting as if we were destined to catch fish tonight. We arrive at the pool, only to find it completely empty - we have it all to our selves. After an hour and a half, something hit my fly. No strike, but at least, there is fish in the river! Which pretty much sums up our first evening in Surna, and we gave in a couple of hours after midnight.
New day, new opportunities
When we are fishing, we are in no hurry (last night was a fluke), and we had breakfast when ever other normal person were having lunch. Just how that morning was in Surnadal, we will never know, but at lunch the sun was shining and the sky clear. The water level was at 34 m³/sec, and the temperature was about 8 degree (celcius). We started the day at the Fluehølen (Fly pool) downstream on the Moen/Røv-pool. As the name implies, the zone was slow and very pleasant to fly fish. Which didn't seem to affect the bait fishermen, which were sneaking downstream in their sexy pvc-waders armed with worms and split shots the size of a cannonball. Plopp! Plopp! Plopp! We would soon grown accustomed to the music of molested worms, raped by a mad man and his barbed hook, landing on the river. <g>
(yeah, looking for someone to blame.. :-))

Not looking good..
After about 3 hours without anything to show for (but I did see one! - at least I think so.), we played around a bit with the camera and left for the camping further down, Honnstad Camping. We chatted with the licence checker/salmon fisher, Geir. He confirmed what we already had figured out, the river wasn't exactly boiling with fish. According to Geir, the water temperature was too low - last week was about 10 degrees, while the river now was about 7-8 degrees. The water temperature is at the mercy of the upstream power plant, which obviously have little interest in salmon fishing. We would check in with Geir later, but tonight we would once again focus on the pool where we had the licence. But several hours later, the only fish we had seen, was the one in the Fly pool earlier. But with the help of a few cold beer and some cigars, we really couldn't complain. Life could be a lot worse..

What about Friday?!?
Not surprisingly, Thursday was followed by a Friday, even in Surnadal. We got up as "early" as the day before, ready to try out the Honnstad-pool. According to Geir, zones 4,7 and 8 were the best prospects, or in plain English, the ones who sucked the least. We parked at the end of zone 9, ready to fish our way upstream. zone 9 was really nice, offering a real variety of conditions, much unlike the rest of Surna, which frankly is pretty boring and monotone. zone 9 had some faster currents as the river got smaller, making it possible to plant the fly in some tree on the other bank, which is always considered a real personal triumph in our book.. :-) You really can't claim that Surna in general runs through beautiful scenery, unless of course, one considers farms, fertilizer and tractors as estestic highlights. In contrast, zone 9 really was appealing.

Coffee..
The water temperature was still 8 degrees, with a marginal reduction of waterlevel to 32 m³/sec. We met some fishermen who'd been at it since 06.00 am this morning, without seeing fish, and much less catching one. Which on some strange way made us feel a bit better, because after all, we might catch just as little as them, but at least we weren't dumb enough to get up early to do it.:-) We strolled along the bank until we felt enough was enough. Fishing evolved as usual, meaning no fish interrupted our back breaking perfection of the Tailing Loop. After wasting a few hours on fishing, we agree on a coffee break, something which always helps keeping our spirits high. Of course, when it turns out, the thermos is left at the cabin, it kinda has the opposite effect. It had started raining as well, and we quickly decide that, perhaps just returning to the cabin would be a better option that standing in the rain, assigning each other full responsibility for the thermos. We are slowly learning the tricks of this river: There are no fish here, so don't sweat it..

Back in the river..
After a quick coffee break/lunch, we head back out to the river, this time for zone 2. zone 2 is a pretty nice pool, even though the smell of menure from the surrounding farms is annoying. We fish the pool twice, and finally, we catch fish! Ok, I have an unquestioned talent for making even the most event less stories long winded, but really, even I lack the enthusiasm when portraying how I caught a 6 inch brookie on the 15' spey rod. :-)
We'd only been out for about three hours, but the Denmark - Brazil World Cup match (soccer) leaves us with an easy choice: We're outa here! After a brilliant match, with Brazil not surprisingly coming through in the end, we head back for zone 2 again. This time with normal #7 rods, looking to score some sea-trout as consolation for the lack of salmon.. Yeah, right!
Casting a light one-handed rod again was simply wonderful, and I really like night fishing, so I actually enjoyed myself. But really, we were at it from midnight until 04.30 am, and the night at zone 2 is very comparable to a graveyard: Lots of people, but not a lot of action..
Saturday night rodkill
Not surprisingly, we didn't exactly get up at dawn, but we did at least (barely) get to a store before they all closed. We felt pretty good about that, after all, when fishing is bad, you learn to appreciate the little things. We are no longer optimistic or excited, but in lack of other options, we start planning tonight's fishing. We drive along Surna, checking out different pools, without connecting with any. We check up on the catch board on Honnstad Camping, and it's as predictable as ever: 3 svel (salmon > 3 kg), and 1 salmon ( < 3kg) the last day. That may not sound so bad, but considering that's the total catch of about 30-40 fishermen, and that every fish is caught on worms, we feel no urge to celebrate..

Rock bottom still to come..
Again, we're getting ready to fish, but we need to move our car to make room for more fishermen. I'm minding my own business, thinking about all and nothing, as ugly sounds erupt from the car. It turned out, Julern figured it would be smart to back up a bit before turning. Only one catch to his genius master plan: our rods were just behind the car, resting on a nearby tree. And with the trunk open, the hatch caught my rod, and in a matter of seconds, it gave in to the abuse and shattered all over the place.
A silent, but quick situation report reveals that I'm now was the proud owner the world's only Bruce & Walker 15' 6 piece travel rod. Unlike the 3 piece version I used to own, the 6 piece version unfortunately doesn't fit. Of course, Julern's rod, a borrowed 15' Hardy-rod, which was a whooping two inches away from mine, was unharmed. Needless to say, I was having a really hard time seeing the humor here, and I silently picture myself maniacly stomping Julern's rod. Better make the pieces small, or he'll have a hard time eating them, which was the second stage of the plan evolving in my mind..

Life goes on..
Oh well. Shit happens, it was an accident. It was stupid, but not nearly as stupid as it would be to let it destroy our trip..
After aggressively throwing what's left of my rod into the trunk, we head for Geir again. I can't help noticing that with his own rod all alone on the rod-rack, Julern now approach backing up with annoyingly much caution.. Yeah, yeah.. We tell Geir about our luck, which didn't take long. Not a whole lot to do about it now, anyway. We decide to try for the sea trout again. It's early July, and far too early for the real sea trout peak, but unlike the salmon fishing, it was a potential failure, not a definite failure.. :-)
Sea trout equals night fishing, so we head back to the cabin, where the tasks are divided between me and Julern, according to the unfortunate rodkill earlier. So, Julern tied flies and cooked dinner, while I engage in activities better suited for my mode: watching TV and drinking beer. And it helped. By half time of the Holland - Argentina, we were both cracking jokes about my new travel rod, and we're actually having a pretty good time. We even took a stroll around the Øvre Sæter Pool, only to have our suspicions confirmed, that despite the higher price, it was just as rainy and fishless as anywhere else. There are 9 rods on the pool, and on average they catch a salmon a day. The higher price is somewhat justified by the fact that the fishing pressure is low, and of course, that the pool is fly fish only.

Last shot
We arrive at Geir's just after 9 pm, and as we're walking to the pool, we decide to be somewhat systematic with our fly choices, making sure that we all won't be using identical flies in the search of the right one. So, we use everything from big tubes, to small trout nymphs size 12. We fish the pool a few times. The river is rising, but the temperature remains at a low 8 degrees. We actually see quite a few fish this time, some even very close to us (10-15 feet away). They're probably spooked by our presence, and they refuse to take..

Crunch time
Julern actually had a take, but apparently it didn't feel like hanging on for more than a few seconds. We give in at around 2 am, having nothing to show for it as usual. Well, however pathetic it might sound, we were actually quite exited by this last night. Julern had hooked a fish, we all saw quite a few, we had the pool to our selves (no one else dumb enough to be out at night, I guess). Geir recommends we come back in August, promising less water, less people but most importantly, more catchable sea-trout.

The Salmon - Figen 1 - 0
When we eventually woke up Sunday morning (wide definition of "morning" used here), one of us asked, "Ok, we still have time for a few hours on the river. How about it?" .. After a few seconds of silence and soul searching, we both burst out in laughter. When hell freezes over!
We're fed up with salmon fishing and Surna. We've lost. To a fish with a brain the size of a peanut.
For a moment, we consider stopping and throwing rocks at the bait fishermen, something to symbolize the defeat and the end of our expedition to Surna. But we wisely decide on getting our sorry asses out of Surnadal ASAP, getting ready for our next stop, Trysilelva.
As we finally leave Surnadal, we stop agonizing over our failure, and we gradually shift our thoughts to future successes, such as Trysilelva and also, Surna in August..


Some links:
Surna on the net.
Øvre Sæter.

Surna: Welcome!
At our arrival, we were greeted by the man himself, carrying a 15 pound salmon..

Surna: Our first round in Surna, at the Smedhølen pool on the Moen/Røv-stretch.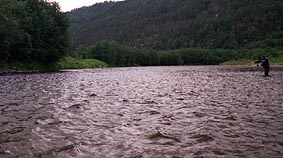 Surna: Day 2 was spent in Fluehølen.. Another pool on the Moen/Røv-stretch.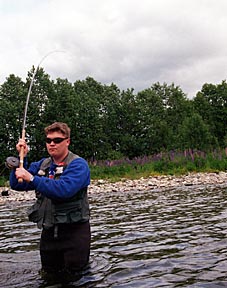 Surna: Trying to get to the other side of the river.. All fish is there. I know it!!
Still in the Fluehølen pool.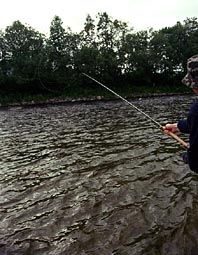 Surna: Julern fires off another fruitless cast.. No wonder he didn't catch anything with that stupid hat..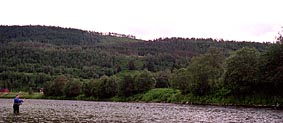 Surna: blablabla. me, rod, Fluehølen..
During our stay in Surna, it was mostly clouded and rainy, so the main chunk of useless pictures were taken in Fluehølen this day..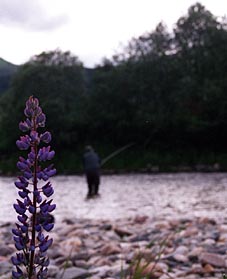 Surna: No prize for guessing the location..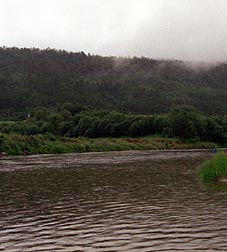 Surna: The famous Advokaten (Lawyer) pool at Øvre Sæter..
(However, it offered just as little fish and just as much rain as the rest of the river..)


Surna: The salmon we never caught..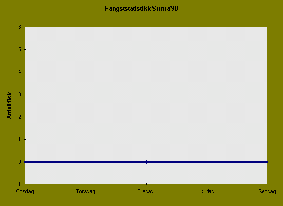 Surna: Check out our impressive score card from Surna..
Graphical day-to-day comparison, making it easy to spot trends..
(who said I was sane?)